Types of NRR–Compliant Headsets for Factory Tours
Guided factory tours or training, whether in showrooms or on the production floor, provide guests with a unique and memorable behind-the-scenes look at the manufacturing process.
Noise levels in some manufacturing environments, however, can exceed 85 dB and cause hearing damage with extended exposure. The Occupational Safety and Health Administration (OSHA) and National Institute for Occupational Safety and Health (NIOSH) require that employees wear proper hearing protection when exposed to such loud environments for prolonged periods.
Even though guests may not be employees, using a tour guide system equipped with noise-reduction rating (NRR) headphones should be considered to help provide a comfortable and safe experience.
The following types of NRR-compliant tour guide system headphones help guests hear more clearly while also providing hearing protection.
Types of NRR-Compliant Headphones
When looking for NRR headphones, you'll typically come across two basic styles.
Over-the-Ear or Earmuff Headphones

Over-the-ear headsets surround the ear. A proper seal against the skin is needed for best protection. The size and shape of someone's head, hair or glasses could prevent the headset from sealing tightly against the skin, so make sure your guests are properly fitted.
Features:
Hearing protection with an NRR of 23.7 dB – 25.5 dB
Ideal for industrial and other high-noise environments
Dual, over-the-ear speakers provide increased noise isolation and improved clarity
Built-in boom mic for convenient two-way communication
Options for hard-hat compatibility
In-Ear Buds or Earplugs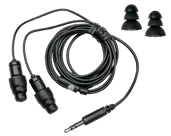 Similar to earbuds that you might use to listen to music, tour guide system earbuds are placed inside the ear canal. Typically, the foam or silicone tips come in various sizes for a proper fit. The in-ear design offers earplug-level hearing protection and a comfortable fit. Often, organizations supply additional silicone or foam tips to ensure that each guest receives a clean set.
Features:
Hearing protection with an NRR of 29 dB (foam) or 27 dB (silicone)
Built-in mic for convenient two-way communication
Universal design to fit large or small ears comfortably
Durable construction for long life and easy cleaning or disinfecting
Noise-Reduction Ratings (NRR) Explained
Headphone noise reduction ratings can be confusing, so what do the numbers mean? Generally speaking, the higher the rating, the more hearing protection a system will provide.
OSHA uses a calculation to determine the general decibel level when hearing protection is worn, based on the headphone rating and the environment's noise level. For example, consider a manufacturing floor that measures 90 dB, and someone wears earbuds with an NRR of 29. This is what the calculation would look like:
Subtract 7 from the NRR (29–7 = 22)
Subtract the resulting value from the noise level (90–22 = 68)
The result? When a headset rated at 29 dB is used in an environment that measures 90 dB, the "in-ear" sound level will be about 68.
In cases of extremely high-noise environments, it may be necessary to combine hearing protection devices to achieve OSHA recommendations. In these instances, earmuffs can be worn over an in-ear audio headset.
It's important to note, however, that these results can only be achieved when the headset is fitted correctly, stressing the importance of giving proper instruction to tour guests. Some tour guide system providers, such as Implecho, offer virtual consultation or even onsite assistance for special events and VIP tours, and can help manage the equipment and instruct guests on how to use it. Let us know if you'd like to learn more about our comprehensive onsite & consultation services.
RELATED: Event Audio Communications Planning Guide
NRR Tour Guide System Options
Implecho offers several manufacturing facility tour guide system options that can be configured with noise-reduction headphones or earbuds based on your unique needs. There are other tour guide system factors to consider as well, such as whether you'll have multiple presenters or want guests to interact by asking questions.
The audio communication specialists at Implecho can walk you through the selection process to help you make the right decision. We also offer demos and convenient rental or purchase options. Contact our team today to talk through your needs and discover the Implecho difference.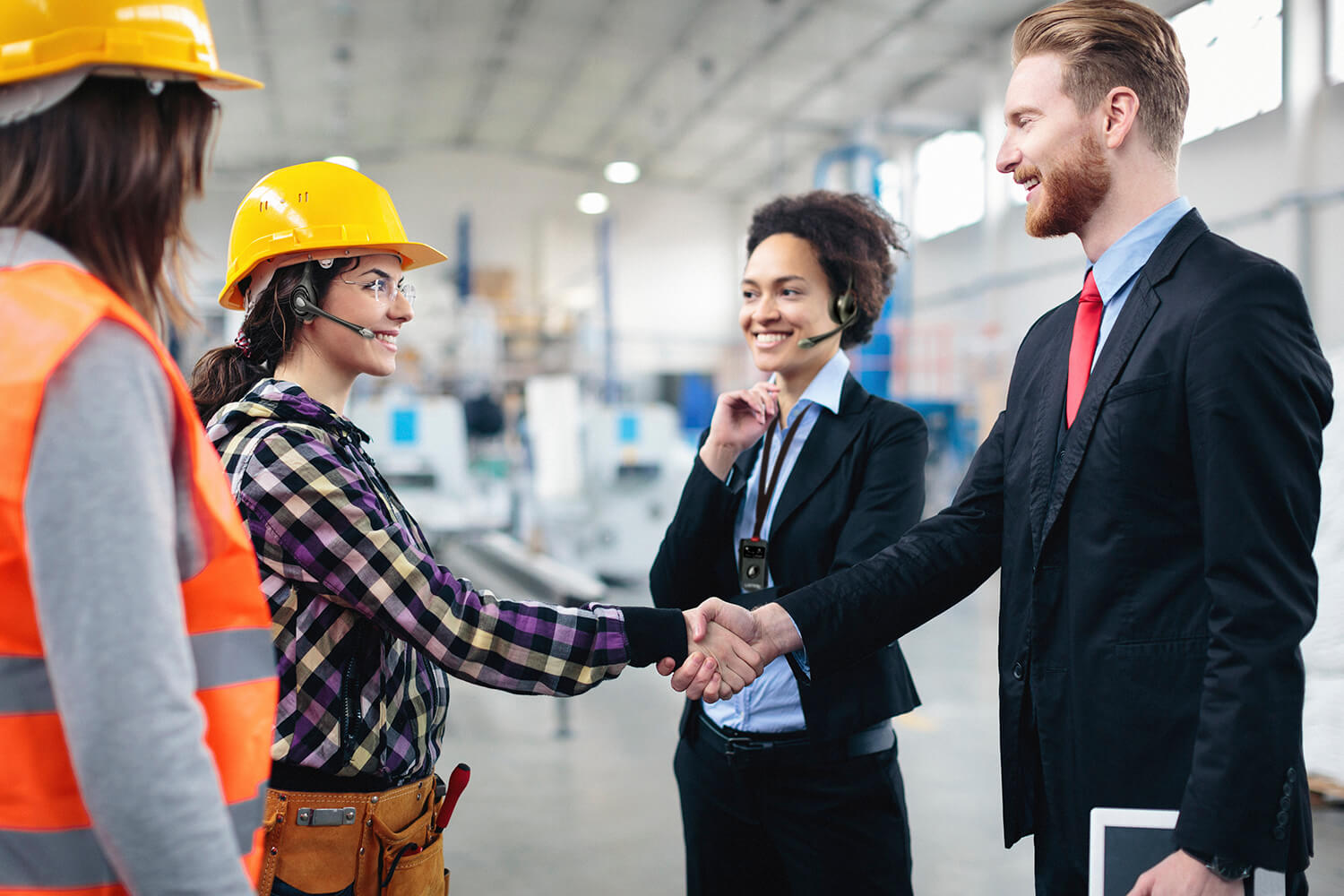 The main goal of any manufacturing plant tour is to clearly communicate a ......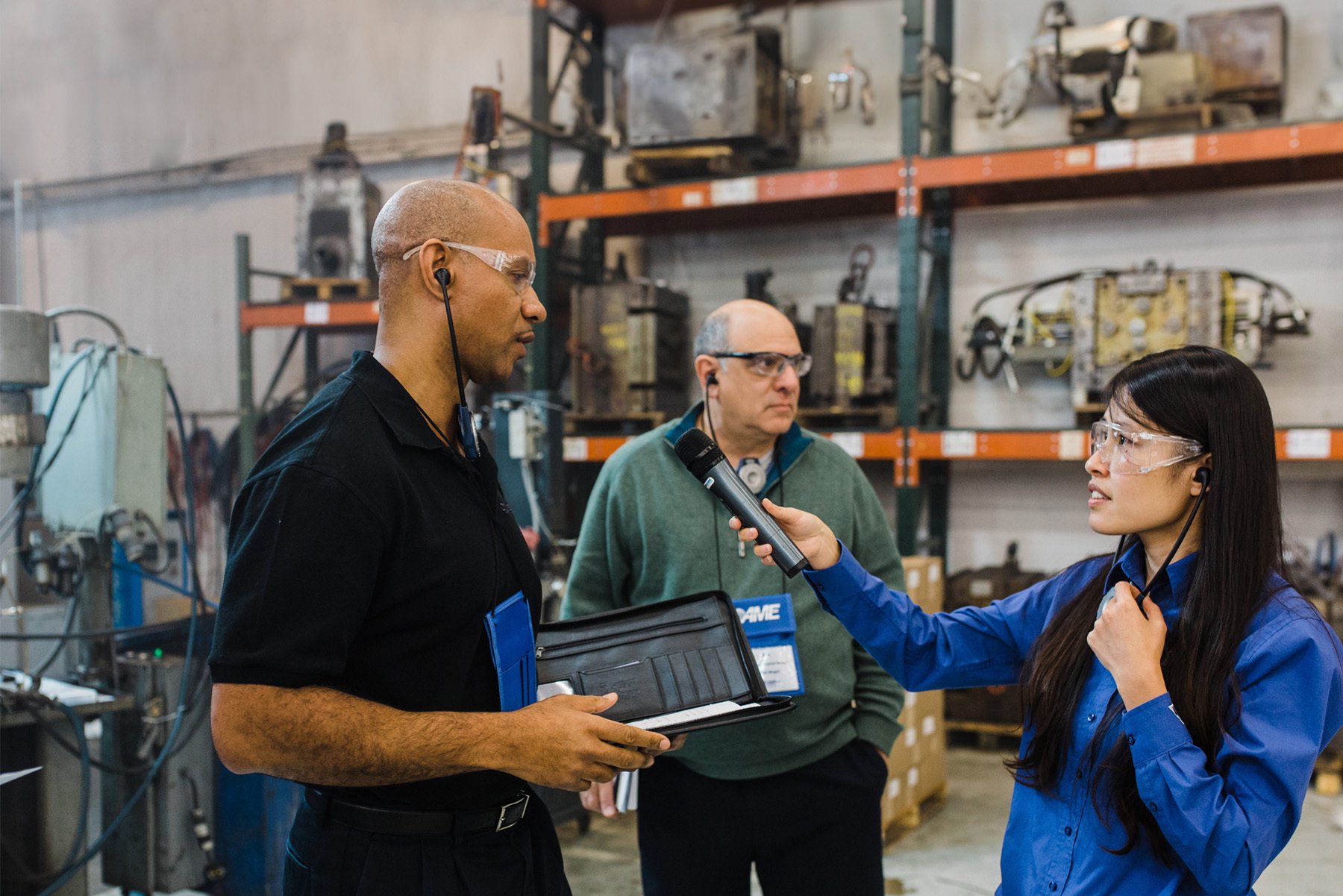 There are a lot of competing tour guide headsets available on the market, each ......
Two-way tour guide systems serve two functions: They allow a presenter to ......