IMPLECHO TOURS
Tour Guide Systems & Solutions
Wireless One-way & Two-way Tour Guide Headsets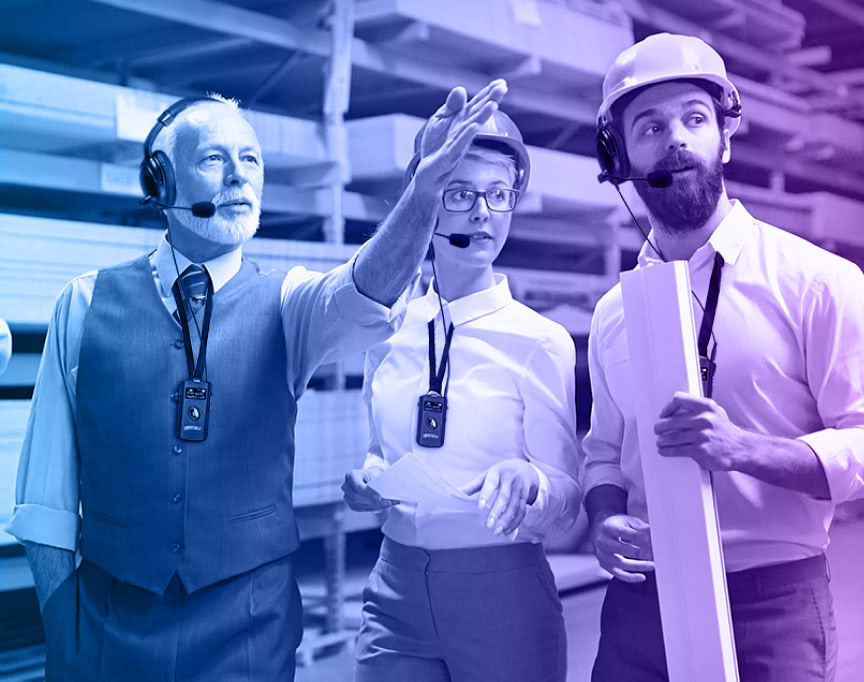 Offer Your Guests the Ultimate Audio Experience
With a wide range of options, Implecho's wireless tour guide systems deliver crystal-clear sound quality and ease of operation, all within your budget — not to mention unrivaled service to back it up. Amplify your brand with the very best one-way or two-way audio communications.
Product Gallery
Whether you need a one-way or two-way audio guide system, transmitters, receivers, assistive listening devices or noise canceling headsets, we've got you covered. Our in-stock solutions are ready to ship in as little as one day within the US and Canada. Explore our tour guide solutions and accessories below.
ListenTALK
Highly versatile and user-friendly, the ListenTALK tour system by Listen Technologies comes with five different headset options based on the noise level of the surrounding environment, plus additional features.
Effortless two-way or one-way communications
Built in mic and one-button push to talk
Noise-canceling technology
Interpretation and assistive listening capabilities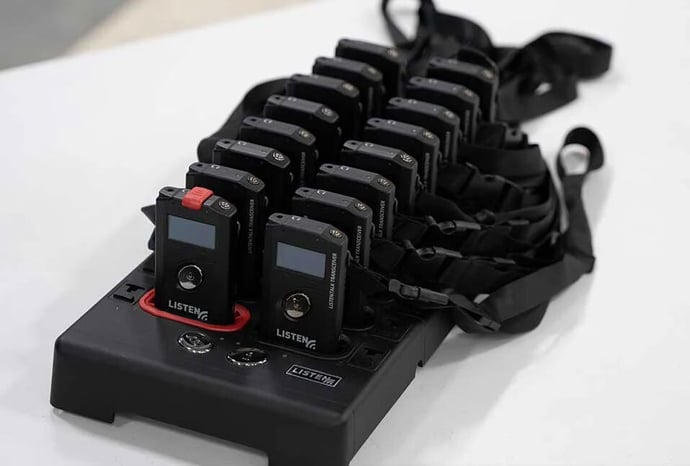 Williams AV Digi-Wave
Hold side-by-side presentations with up to six tour hosts or interpreters in full-duplex mode with no cross-talk. Plus, guests can ask questions or interact with other tour members with the push of a button.
Industrial-strength
Two-way or one-way programming
Updated wireless charging
NRR-rated headset options
Ability to fine-tune mic sensitivity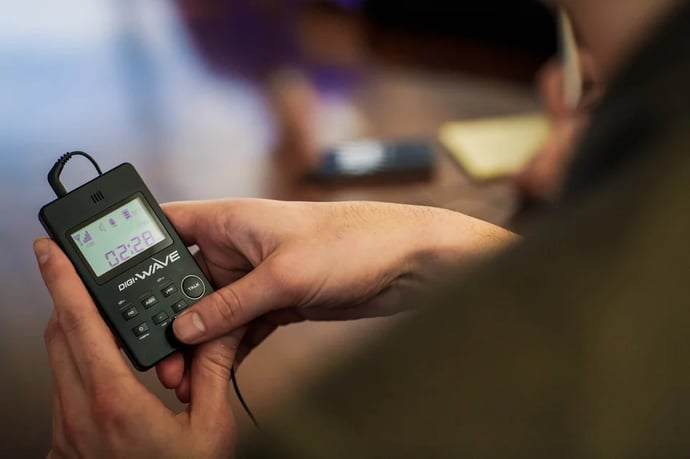 Sennheiser 2020
Communicate with large and small tour groups in a wide range of environments with Sennheiser tour guide system, from noisy factory floors to bustling exhibit halls.
One-way communications
Handheld or hands-free microphone options
Designed for simple, intuitive tour operation
Industry-leading wireless audio quality
Tour groups synchronize with the push of a button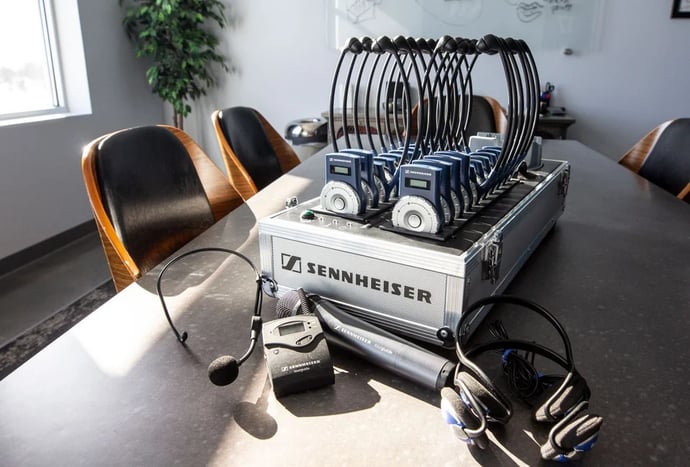 TourGuide Solutions TGS-900
The hands-free TGS-900 is ideal for tourism, brewery tours, walking tours, cruise ship tours, zoos, museums or any guided audio tour. Tour guide operators appreciate the portable carry kit with fast, drop-in charging.
One-way communications
Handheld or hands-free microphone options
Superior, high quality performance both indoors and out
Wide-ranging reception, great for mobile tours
Ultra-lightweight receivers worn around the neck
12-unit and 24-unit options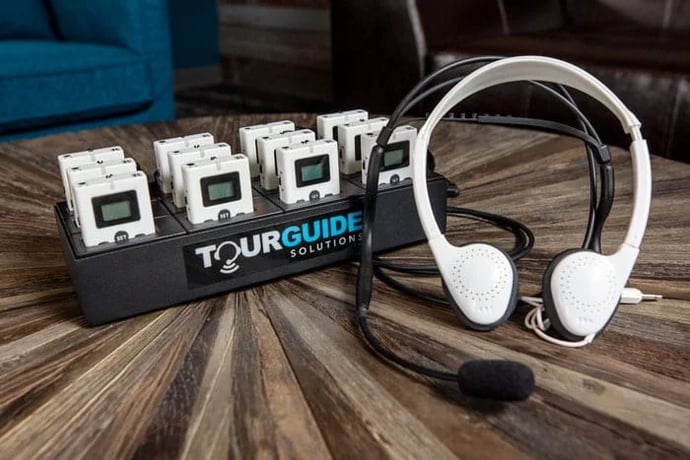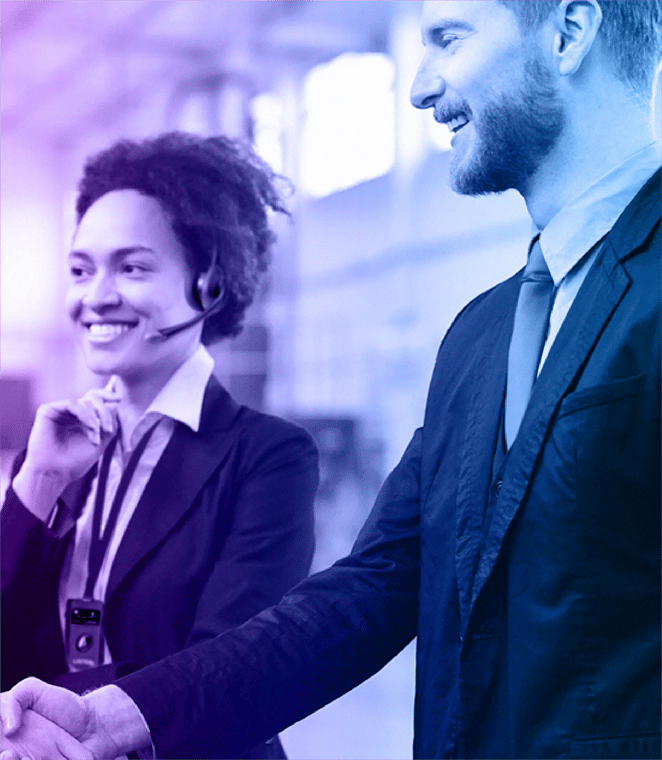 Why Implecho?
Anyone can sell tour guide systems, and many do. But when you need an audio communications partner who listens, learns and guides you to the ideal solution that fits your needs to a tee — and helps ensure your success from start to finish — rely on Implecho.
Our audio communication experts offer:
Free demo options to ensure your satisfaction
Customized configurations with exactly the number of headsets, microphones, charging stations and accessories you need
P

urchase and rental options for scalable solutions

Personal training and tools to instill confidence
All-inclusive on-site support upon request for larger events (includes unpacking, setup, training, sanitizing in between uses, repacking, return shipping and more)
Extensive warranty and returns service
And more
Whether renting or buying your equipment, we'll take you through each step of the process, provide you with the tools and training you need and ensure your system works as it should.
"The entire process exceeded expectations. Your people are great, quick and prompt in responding."
– RASHAAD PELT, THE CLOROX COMPANY
"Service was prompt and efficient. Product is more modern than other types of plant tour headsets."
– FAY POHOLKO, ALL WEATHER WINDOWS
"Very responsive in a crisis situation … Helped explore a few different solutions so we could make the best choice."
– DEB RODAK, CHICAGO ARCHITECTURE CENTER
Tour Guide System Applications & Industries
All kinds of industries rely on one-way and two-way tour headsets to communicate their important messages. From manufacturing and tourism to events and festivals … and everything in between.
Explore the numerous types of tour events where our audio solutions and services are a fit — and learn how you can enhance your guest experience.
Tour Tips & Tools
Use our resources to help elevate your tour guest experiences!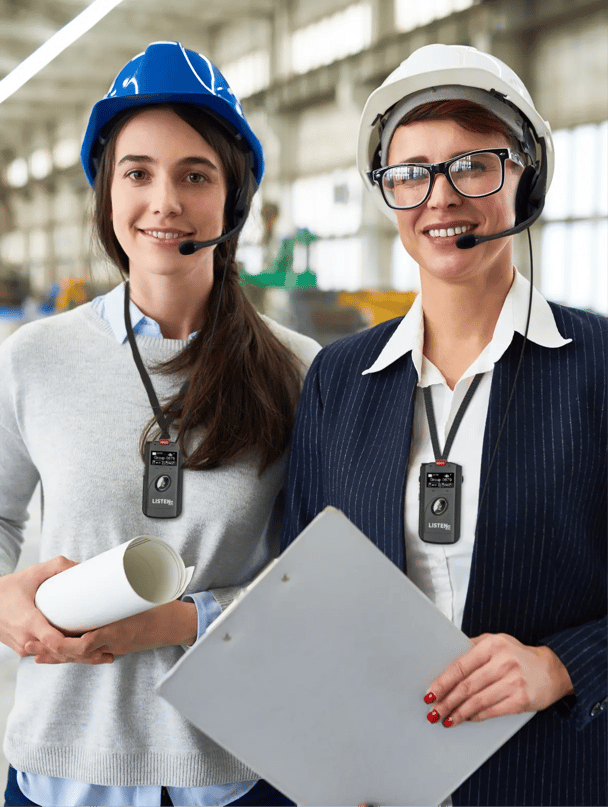 What is a tour guide system?
A tour guide system is a wireless audio communication system used to communicate with an entire group simultaneously. It typically consists of a headset with a microphone and transmitter for the presenter (although handheld microphones can sometimes be used). Tour guests have headsets with receivers that allow them to hear the presenter loud and clear, even in noisy environments.
How do you use a tour guide system?
A tour guide speaks into a microphone to transmit their message wirelessly to a tour group. Guests wear earphones or headphones to hear the message. Some systems allow for interactive two-way communication with the touch of a button while others only allow the presenter to speak. Batteries are charged in a charging station and last for long periods of time.
What types of tours and tour guides are there?
Guided tours are conducted in a variety of settings, including manufacturing facilities, museums, historical sites, cruise ships, exhibit halls, demonstrations, college campuses, trade shows and much more. They can even be used for training, silent sessions and daily walkthroughs.
Can tour guide systems be used for language interpretation?
Yes. In particular, our ListenTALK system can be configured to accommodate language interpreters to listen to a presenter on one channel and communicate to international guests on another, helping encourage a diverse and inclusive tour experience.
How does a free tour guide system demo work?
A customized demo kit typically includes four pre-programmed transceivers with headset mics and accessories. Some tour planners, however, will rent a full system with multiple units as a test run before they decide to purchase.
Let's Get Started
We'll guide you through the process and help you choose the right audio solution to meet your unique needs, all within your budget.
Click below to start a conversation.